303 Speed Detailer
32oz £ 14.95


Fabric and Vinyl Cleaner
2oz trial size £ 3.75
Fabric and Vinyl Cleaner
32oz £ 15.25
Fabric and Vinyl Cleaner
1gal (US) £ 45.00
Convertible Top Cleaner
32oz £ 9.25

UV protection
Aerospace Protectant
2oz trial size £ 3.65
Aerospace Protectant
8oz pump spray (NLA)
Replaced by new 10oz trigger spray coming soon

Aerospace Protectant
16oz trigger spray £ 17.25


Aerospace Protectant
32oz trigger spray £ 26.50
Aerospace Protectant
1gal (US) £ 74.00


Fabric Guard
2oz trial size £3.75
Fabric Guard
16oz £19.25

Fabric Guard
32oz £32.95
Fabric Guard
1 gal (US) £119.99
Small Fabric Top Cleaning Kit
16oz Fabric Guard
plus 32oz Top Cleaner
£26.50

Large Fabric Top Cleaning Kit
2x 32oz £39.95
32oz fabric Guard plus Top Cleaner
Large Vinyl Top Cleaning Kit
2x32oz 39.95
32oz Protectant plus Top Cleaner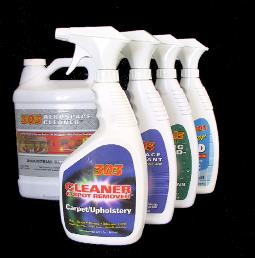 303 Products
Throw away that array of cleaners, polishes, tyre dressings and trim waxes. This amazing range of products will clean and protect virtually everything on your boat, car, plane, caravan and in your home. Our Aerospace protectant is the world's most effective UV screening product available today.
MARINE
Gelcoat fibreglass – never buff or wax again! Instantly restores colour to faded fiberglass and keeps it that way. For marine vinyl, clear vinyl, inflatable boats, sailcloth, boat trailer tyres and all UV sensitive plastics.
MICROLIGHTS AND FLEX WING PLANES
The single biggest cause of damage to microlights is UV degradation. In 5 months of continuous exposure to sunlight, Dacron will loose 85% of its tear strength! Restore the colour and protect your valuable asset with 303 Aerospace Protectant.
AUTOMOTIVE
Vinyl convertible tops, clear vinyl windows, tonneau covers, door seals, tyres, vinyl and leather interiors and plastic trims.
Before and after

CARAVANS AND CAMPING
Fibreglass, tires, rubber seals, vinyl awnings and interiors.
HOME AND LEISURE
Wood or plastic garden furniture. GRP garage doors, plastic fascias and pool covers.
OUTDOORS
Canoes, jet skis and all UV sensitive plastics.
Patio Furniture Cleaner
16oz £ 8.25
Patio Furniture Protectant
16oz £ 17.25

Patio Kit
•16oz furniture cleaner
•16oz furniture protectant
£ 19.95
Complete Patio Furniture Care Kit
•16oz Furniture Cleaner
•16oz Furniture Protectant
•16oz Fabric Guard
•32 oz Fabric cleaner
£ 54.99
Patio Furniture Care Sampler Kit
•2oz Furniture Cleaner
•2oz Furniture Protectant
•2oz Fabric Guard
•2 oz Fabric cleaner
£ 15.00
Miscellaneous
Shower Shield
16oz £17.25

Windscreen Washer Tablets
5 tablets £6.95

Fleet user size
25 tablet tube £15.25

Wiper Blade Treatment
Pack of 5 £4.95


We are no longer operating a web shop for 303 products but do carry the whole 303 range
To order please telephone 01670 716145