The 303 range
Patio Kit
•16oz furniture cleaner
•16oz furniture protectant
£ 19.95

Complete Patio Furniture Care Kit
•16oz Furniture Cleaner
•16oz Furniture Protectant
•16oz Fabric Guard
•32 oz Fabric cleaner
£ 54.99

Patio Furniture Care Sampler Kit
•2oz Furniture Cleaner
•2oz Furniture Protectant
•2oz Fabric Guard
•2 oz Fabric cleaner
£ 15.00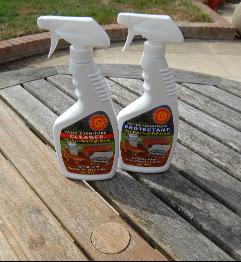 Home and Leisure products
303's Superb new Patio Furniture Care products are tailor made to clean and protect your patio furniture. They are fantastic on teak, resin, vinyl, oroco and other hardwoods plus plastics, stainless steel and fibreglass.
Couple these new products with 303 High Tech Fabric Guard and Fabric Cleaner and you've everything you need to clean and protect everything from barbecues to umbrella's and a lot more in between. Ideal protection against UV fading on Conservatory furniture and farics and great on Hot Tubs and Spa's where 303 prevents fading of the spa covers and gel coat surface exposed to direct sunlight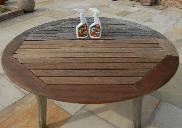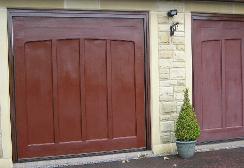 Restore your GRP doors and facias
303 Aerospace protectant is great on GRP (Glass Reinforced Plastic) which is used extensively in exterior furnishings like doors and facia boards. 303 A.P. will revitalise the material and make them look like new.
The pictures show the effects of 303 on a customer's 11 year old GRP garage doors, needless to say he is delighted with the results.

303 Aerospace products are ideal for the care and protection of your pation furniture both indoor and out


To purchase individual 303 products please go to the main 303
product page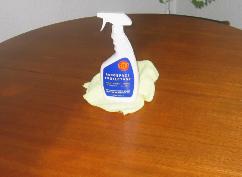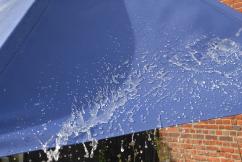 Protect Awnings and Umbrellas
303 High Tech Fabric Guard is ideal for restoring water repellency to all Sunbrella fabrics, and indeed, all types of cotton and canvas coverings such as Patio umbrella's, conservatory furniture etc. In additon it provides protection against UV induced fade and resists soiling
The pictures show the repellency effects on a cotton pation umbrella treated with 303 High Tech Fabric Guard
Restore Furniture
This teak dining room table had been polished for years using various furniture polishing products that had built up and turned it sticky and dark over the years
Application of 303 Aerospace protectant with a microfibre pad removed the layers of old polish and the associated marks from liquids leaving the surface looking like new and protected against urther damage