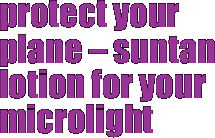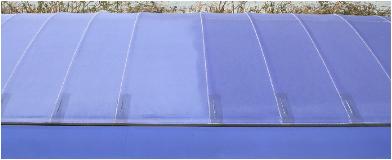 The top picture shows the effect of just one application of 303 Aerospace Protectant to a faded microlight wing panel. Regular treatment of the Dacron covering will prevent UV induced slow fade and extend the life of the fabric. For just £14.95 you can start protecting your microlight - which is a lot less than a new wing!
Feedback from a customer

"I have been a sailmaker for many years starting in the marine industry and moving on to the production of Hang Glider sails and Microlight sails.
For many years in the sail-making industry for sailing boats we were well aware of the harmful effects of U/V radiation. Many sailing yachts had a permanent roller reefing system which stayed on the forestay all season round and had a strip attached to the Leach and Foot of the Genoa so that when it was left furled at the mooring this strip of cloth known as a sacrificial strip was taking the U/V rays and not the sail. After a few seasons we would have these sails in for winter overhaul and have to replace the U/V strip and attach a new one as often the old one would tear just like blotting paper. Also in the early years of hang gliders and microlights we could see that after a few years use that sails were fading in colour and were obviously being affected by the U/V rays.
It amazes me that often you will find that someone will spend many thousands of pounds on a superb new microlight, yet will not spend a few hundred pounds on a decent set of covers to prevent the U/V from attacking their pride and joy and will leave their aircraft parked outside where it is immediately starting to rot.
People also live with the misunderstanding that an Ultralam covered Microlight is free from this problem and I have heard people say that the manufacturer has said that Ultralam is good for 15 years. Sadly this is not true, admittedly the material is harder wearing against the suns rays, but the sail is only as good as the stitching and even with U/V treated thread the constant strength of the U/V will still be rotting the wings. It was with much joy that I discovered your amazing product the 303 Aerospace Protectant. It took a while for someone to invent, but well worth waiting for.
I have a Thruster Microlight with fading wing and tail covers and this plane has had much use and possibly not the best treatment in its former years. I have spent 8 months of last year refurbishing her and as I completed her was aware that the only thing letting her down in appearance was the condition of the sails.
I ordered the 303 Protectant from you and applied it to the tail skins first as a trial. I was amazed how much the colour of the fading blue cloth returned and as I worked the spray into the cloth it was just like feeding the cloth as you could see it absorb the Protectant and then see and feel that the fibres had a real lustre to them. Needles to say I have now treated my whole plane and am absolutely astounded by the transformation of my now treated wing and tail plane coverings, making the refurbishment complete.
I can only advise people to be well aware of the U/V harm that is being placed on their untreated and uncovered planes and would encourage anyone thinking in investing in some 303 Aerospace Protectant to go ahead as it is the only form of decent safe treatment available at this time. Thanks again for your excellent product."
Roly Lewis-Evans.
Flying high in the air, free as a bird on wings of gossamer thin Dacron. Not a care in the world. But wait! What's all that sunlight doing to you wings?
The single biggest cause of damage to microlights is UV degradation. It is a fact that in five months of continuous exposure to sunlight, Dacron will loose 85% of its tear strength!
Now you can restore the colour and protect your valuable asset with 303 Aerospace Protectant. Simply spray or wipe on and wipe off with a dry cloth. Apply regularly, to obtain maximum protection from UV damage and prevent colour fade.
Use it on fibreglass, rubber tyres and trim to clean, restore and protect from soiling and airborne pollutants. Together with 303's Aerospace Cleaner there has never been a better way to clean and protect your microlight

303 Advantages:
• Unsurpassed UV-screening protection!
• Quickly and easily restores original colour,
lustre & gloss.
• Easy application. Just spray on & wipe dry.
• Not greasy or oily.
• Repels dust, soiling and staining.
• Treated surfaces stay cleaner, longer.
• Lasts 4 to 10 times longer than other products.
• Coverage for 16oz approx. 280 sq. ft.
• Regular use stops UV induced slow fade.
• Slows tear strength loss.


The world's most manufacturer recommended product
303 Aerospace Protectant
Restore and protect fibreglass and stop UV induced slow fade on Dacron material with regular use of 303 Aerospace Protectant. Engineered for aerospace and aviation applications, 303 is the world's most effective UV screening product and is suitable for three axis, fixed and flex wing aircraft. Because of its enduring cosmetic properties, its resistance to dust, soiling and staining, its water repellency and its unparalleled protective characteristics it is recommended by leading microlight suppliers in the UK such as Flylight and Western Microlights.
303 Aerospace Protectant keeps UV-sensitive materials "like new" year after year.

Resellers: Reseller enquiries are welcome. Low minimum order quantities and excellent prospects.
All UK regions available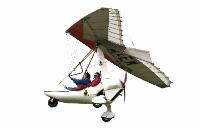 after applying 303 Aerospace Protectant