Cyclo products
Cyclo CE6 Pro Polisher
Cyclo Dual head Polisher with VES.(Vibration Elimination System), complete with Standard velcro boots and set of Green and Blue polishing and finishing pads
System price £449.00



Cyclo CE6 Pro Variable speed Polisher
New Cyclo 6CE with variable Speed control complete with Standard velcro boots and set of Green and Blue polishing and finishing pads
System price £485.00
available to order 10-15 days


Fleecewraps kit
10 Fleecewraps
£74.00



Cyclo Polisher Accessories and spares available
The complete range of Cyclo pads accessories and spare parts are available from our store We also service and repair aall models of the Cyclo range including 110V models
Please call for prices and more info.
Cyclo™ The World's premier orbital polisher

Why is the Cyclo the world's premier polisher?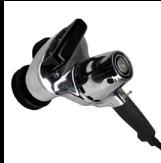 The difference can be found in its patented dual orbital heads. Rather than spin like traditional rotary polishers, the Cyclo's heads rotate in an overlapping circular motion. Its movement is almost identical to hand polishing, only much quicker. That unique combination of motion, speed and just the right weight makes it perfect for deoxidizing, buffing and glazing paint and metals to a mirror finish.Equally important, the Cyclo's innovative design eliminates the main problem that plagues rotary polishers – heat build-up that can cause visible burns, gouges and swirls.
Perfect For Every Polishing Project.
The Cyclo legend began in 1953 when it was approved for use by the government to polish its military aircraft and missiles. During those years, the Cyclo earned its reputation for durability and dependability as it was used on fleet after fleet of large airplanes. Indeed, there are many fifty-year-old Cyclos still in use around the world.Today, the Cyclo delivers a superior polish on mainstream products such as automobiles, boats, even Airstream™ RVs. Car dealerships, automobile detailers, car washes and fleet users all rely on the Cyclo to keep their vehicles looking like new.
Metal Polishing made easy with Cyclo and
FleeceWraps™ kits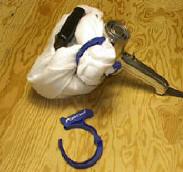 FleeceWraps are cotton fleece cloths that have been cut specifically for use with the Cyclo polisher. The cloth comes 66" wide from the mill. We have it cut into 32" by 40" pieces with 5" slits in the corners and along the sides as shown in the picture opposite. These slits fit over the motor housing or front handle of the Cyclo polisher.
We now source these cloths directly from the UK to keep the costs down however unfortunately the clamps shown in the image are not currebtly available The wraps however can easily be tied in a knot to secure them and this actualy works better !
Speciaist Polishing Services for Aircraft and Airstream caravans and Aluminium Bodywork
The Polishing Company are UK distributors for the famous Cyclo Polisher which is the only tool for the job of polishing Aluminium
We can offer a specialistt polishing service for owners of Airstream Trailers.and Aluminium bodied vehicles such as Lotus 7s and Caterhams. If you are contemplating a project like this then talk to the experts. We can help with the polishing or set you up with all the equipment to get a mirror finish on your vehicle.